The Big Move for Images Staged with Flair.
By Anna Topolinsky, Owner of Images Staged with Flair
 We needed to make the big move!It is no secret that the housing market in the Golden Horseshoe has been hot! Hotter than most people can remember it ever being. Prices are up and it has been a busy year for Real Estate Brokers, Home Builders, Property Investors, Stagers like us, and Movers too!
This summer, after two years of effort building inventory and searching out the exact location, we have finally moved ourselves into a Canal-side warehouse space. There, we are able to keep our wide selection of high-end furniture, accessories, art work and so much more all in one place.
It seems like good luck that we anticipated the growth we would see this year, which made the move inevitable. It was always our plan to have a warehouse and play in the top-rated sandbox among our Home staging colleagues. We are one of the few staging warehouses in the region that can offer the selection, quality, availability, and affordability of needed material to make a home stand out in the marketplace.
For our clients, the selection we offer means that we do not use a one-size fits all approach to staging. From modern, contemporary to traditional, there are many looks that we can choose from for a spectacular finish that will attract your target buyer.
For us, having all our inventory in one place is really helpful. With things spread out in various locations, a now redundant layer of logistics planning that needed to be done for each client can be done away with. The new efficiencies  gained have increased our capacity and makes us able to respond to client needs more quickly and more effectively.
One of t
he things that continue to amaze me is the support we get from our Real Estate partners. The professional Real Estate agent that clears the way for Images Staged with Flair to approach their clients,  are the clients that have helped us grow. It is for them that our move to using a warehouse space was so important.
Agents are placing their trust and essentially their livelihood in our hands when recommending staging to a client. When we can turn around and make this kind of investment it shows that our partnership works and as far as the agent, the property owner and we are concerned, it is a win-win-win situation
In this past year we have also been fortunate to be working with many property investors that have renovated their investment homes and in turn put their trust in our expertise to stage their property and target their buyers for them to receive the highest offer possible.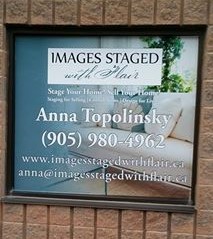 They are always amazed at how the staging of the home enhances the work that they have tirelessly worked so hard for but more importantly they are amazed on how their Realtor will always suggest they raise the listing price to reflect how well the home shows after staging.
Our goal is to continue growing and to continue to offer quality, and affordable home staging to our clients. As an added bonus my husband now has his garage back and my children are now able to enjoy their rec-room again!!
Win-win-win…win.
Images Staged with Flair
905-980-4962